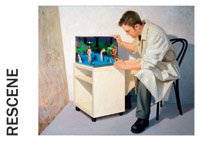 Kristoffer Zetterstrand
Solo show
Poseidons torg 8, Haninge centrum [map]
16 may – 29 aug 2009
opening may 16th 12-16
Text by PO Hagström
Card [PDF]
A translated extract from PO Hagströms' text:
Rescene: Kristoffer Zetterstrand at Haninge konsthall
Background
Kristoffer Zetterstrand was born in 1973, and graduated from the Royal University College of Fine Art in 2001. Since then, he has become well known for his visual art, where motifs from various epochs blend together, and where the investigative and the narrative are central parts.
Looking at Zetterstrands' art, we often find ourselves in the middle of a story, as if we have stepped into the darkness of a cinema theater in the middle of the film. The brain starts to work, how does the different parts relate to each other? What does the deployed objects mean, and what relations are there between the main characters? We recognice the different parts: ruins, mountains, figures from renaissance and computer games, Plato's cave and the enlighting or consuming fire – but there is also something askew in the images. We discover that the stories we have read into Zetterstrand's motifs are like the enthusiastic but inadequate efforts of a conspiracy theorist, trying to make things make sense. It's all connected, but something is not right. And it is that gap that keep us engaged.
The exhibition Rescene
The title of the exhibition is a play with words. It originates from reusal, or re-seeing, or perhaps a scene being brought back into use. And accordingly, the exhibition is also a recap of the paintings of the last few years, where Zetterstrand's method of constructing different environments, like a scenoghrapher, is a recurring theme. To do this, he uses the computer as his scetching tool.
By three-dimensionally building the scenery, he can turn the image around and see it from all directions. He can also move around, remove and place different pictorial elements and then light the motif in different ways to see how the shadows move. After this, the painting can begin. Zetterstrand describes the painting as the part of the work process where he, with his own words, can allow himself to improvise upon the themes he worked out in the computer. This, therefore, is the most important part of the work, where the ideas are physically tested, as the brush meets the canvas.