Interview made for GEE Magazine
By Christian Neeb

Original interview in german here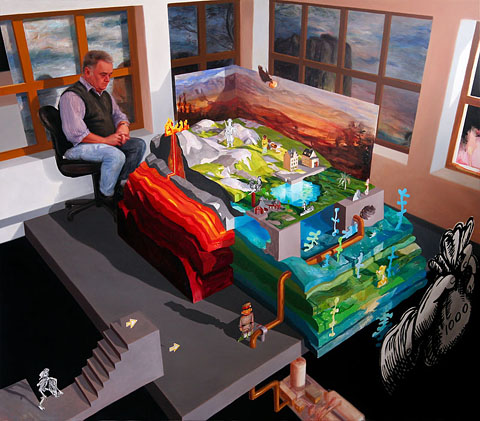 When you were a child, how did you grow up? What came first: Being a painter, or being a gamer?
I grew up in Stockholm, but for a couple of years my family moved around so I lived for a while in Denmark and France, mostly in Paris. I was twelve at the time and living in Paris had a big influence on me. I had always been painting and drawing a lot, but it accelerated there. I would go visit the museums and sit and draw. As a teenager, I played a lot of early PC games, such as Wasteland and King's quest, and later on I actually made some pixel art for a game developer, but when I began studying at art school, I focused on painting. I studied art for nine years, ending with a MFA from the Royal College – and it was only the last couple of years there that I started experimenting with computer imagery in my painting. During that period, I began exploring the visual landscapes of FPS shooters and at the same time I was still studying the old masters – so It all merged I guess.
I also studied for a while in Madrid, and I spent my days almost equally divided between drawing at the Prado Museum, and playing Half-Life Deathmatch at an Internet cafe.
Maybe you could tell me something about your background? When did you start painting and why did you decide, that perspective should be an elemental part of your work?
I started painting seriously when I attended my first art school at eighteen. I didn't have any other plan to begin with, except learning as much as possible – and I was very focused on the technique in the beginning. I began studying picture composition a lot, and I was fascinated by the work of the Italian renaissance, especially Piero Della Francesca. The invention of linear perspective during the renaissance transformed the imagery of the western world, and we are now so used to it that we take it for granted. Our 3D software for example relies on it. Since I am interested in how human imagination creates worlds, I guess that is part of the answer. However, I never decided that the issue of perspective would form part of my work, but since it always has intrigued me, I keep coming back to it. It's the same with the Pythagorean ideas on mathematics, the harmony of numbers and the Fibonacci series. I have to test it out. For example, the painting series called "Levels" (2006) – which depicts "Graham" from "King's quest" walking through different scenarios, each canvas being a level in his adventure – were all composed extremely methodically upon the Golden ratio.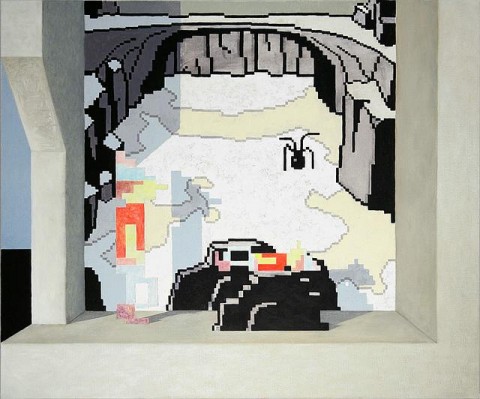 In your paintings classic pieces of art like Caspar David Friedrichs "Der Wanderer über dem Nebelmeer" merge with imagery from retro-games like the Sierra Adventures. What is your intention by doing this?
The blending of different imagery comes partly from my wish to give the various pictorial elements equal importance, to maintain a level playing field in my scenes.
For example, I'd like to give a 8-bit flower the same respect as a cut-out from a 15th century oilpainting by Bellini. I also treat them in the same way by keeping the sampled imagery projected on flat surfaces, even though they inhabit three-dimensional space.
By contrasting the flatness of cut-out images with the shadows that they cast from the virtual lighting, their flatness is exaggerated at the same time as the 3D-space is rendered more illusory. By also contrasting pixelated elements from old games with more naturalistic parts, such as the one you mention from Friedrich, a new story can be told in which I don't need to adhere to the conventions of a specific "reality level". The resulting image has its own reality, its own rules. I'd like to think of it in a way as a stage play at the theater that can immerse the audience, even though the set design is obviously constructed out of painted cheap wooden planks.
In your mix between pixel and paint, the human being, the artist becomes a part of the artwork, while still being an outsider, an observer. What is your relationship to your paintings?
Being the artist, I'm both the creator and the spectator in relation to the painting. In some of my pictures, I have included a figure that interacts with or contemplates the scene, and who could be interpreted as the creator of it, but perhaps also as someone merely exposed to it. By also treating this figure as a textured flat plane, the border between the figure and the rest of the scene gets blurred, and the creator, if he/she is to be seen as such, gets incorporated into the world he/she created. I like that idea.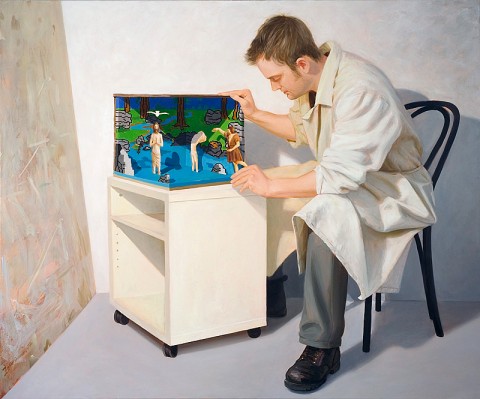 In your selfportrait, that we printed in our magazine, one can see yourself being part of your own work, the picture of yourself touching the diorama you created. Would you think of this picture rather as a symbolic one, or does it represent a real desire, maybe to touch a virtual world with your bare hands?
It has to do with the different levels of realism i mentioned earlier, and also in that specific painting, it tells a story about the relation between an artist and his motif.
The painting is called "Artist and Still Life", and in it, I have dressed up as an "artist", complete with a white painter's coat. (Which I do not use IRL) The still life in the picture represents a world that may be imaginary in the mind of the artist in the image, but he is at the same time playing with it in the same pictorial space that he himself exists in. I would say that it does represent a real desire, as you say, but in a way that desire is partly fulfilled in this case, because when I painted that picture I did touch a virtual world with my bare hands – the painting itself.
Have you ever thought about creating a game and implementing acrylic or oil elements in the graphics of the game? If so which genre would you choose? What would fit your creative style most gameplay-wise?
I have made some stuff for fun where I have implemented painting elements into game worlds, for example when I put Piero Della Francesca's frescos into a Counter-Strike map I made (de_priory). I started making a map for Counter-Strike just to learn the tools, so that I could use them later to construct 3D worlds of my own, but I couldn't resist making my own textures too, some of them based on my paintings. Also, pixel-versions of many of my paintings can be found in the game Minecraft. That's extra fun, because many of those paintings have old school pixel graphics in them, and here they are, back inside a game again – transferred from pixels to paint and to pixels again, and you can make them in the game from wool and wood. If I were to put "painted objects" in a future game, I would perhaps consider making an adventure style game, like "Grim Fandango". That would be great.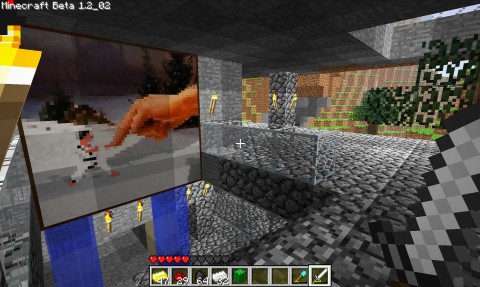 pixel-painting in Minecraft
——————————————————————————————–
By Christian Neeb