In the second part of the interview series "The digital canvas," we meet artist Kristoffer Zetterstrand who talks about how he uses a 3D program to sketch out his motifs. He can create hundreds of different sketches on the computer where he tries out different lighting, angles, and compositions, but in the end, it is only the brush and the canvas he chooses to realize his idea.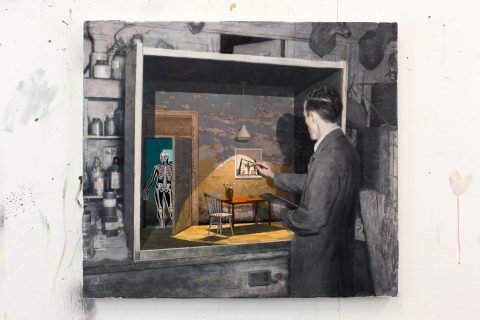 The Summoner, 70x80cm, Kristoffer Zetterstrand (2014)
When you played the video game Counterstrike around 2002, you discovered a new group of motifs in the digital world. But why did you make oil paintings of these motifs and not digital works? Does something special happen when you transfer a digital image to a canvas?
For me, the physical material of the painting is central to what I'm doing. A digital screen or print can show an interesting image, but when I work myself, the actual painting process is the absolutely most important. I think of it as translating an image into a painting. Painting is something unique, different from everything else in the world.
Can you tell us a little bit about your working process? You build up your paintings in 3D on the computer before transferring them to a canvas. How do you compose the image and how do you then choose which motif you will paint?
When I'm going to start a new sketch for a painting, I usually start with an empty space in my 3D program, which I then start building a scene in. Sometimes I recreate a scene room from an older painting to have something to start from. Right now, for example, I'm building the landscape and cave from Bellini's "St. Francis in the desert". I can then turn these scenes around and the sketch work consists of placing figures as actors in the scenes, experimenting with lighting, and trying out different compositions. I build the architecture, sculpt the landscape in the background, set up and test the parameters for cloud density, sunlight strength, etc. The whole time during the process, I render test images, change, and improvise in this way towards a motif. Often, I have made hundreds of motifs before I find one that I want to translate into a painting.
Since your paintings are basically 3D models, have you ever considered making virtual 3D paintings of them?
It feels a little like my sketches are already virtual 3D paintings, and in that case, I have made a lot – but I have rarely shown them. I think more of them as places where I have taken my motif – which makes it feel strange to present them as standalone works. A little like showing a still life at an exhibition instead of the painting of the still life.  But sometimes I open an old file to take a walk in a landscape I haven't been to in a while. It is possible that I will show my virtual scenes in some way in the future. Maybe in VR?
What is it that you want to explore in your paintings? You reuse part of art history, but also work on a meta-level and depict people who are building models or highlighting the transition between the digital and the painted, which reminds a lot of your own working process?
I rarely have a completely clear picture of how the motif will look when I start sketching – but during the process, something that I feel strongly about eventually crystallizes. When I look back at a series of paintings retrospectively, I can see that I had some kind of coherent idea or motif interest during that period, and some themes have been recurring for many years, including those you mention.
Often, I try to find a tension in the images where something very fundamental to humanity is staged. Creating, building, observing, presenting, asserting, etc. – different wills and actions that are fundamental but that easily become problematic. A recurring feature of this is failure, the bug, the deficiency, and the mood that arises when a facade crumbles and an underlying structure is revealed, either physically or mentally. In a video game, for example, you can be completely "in" the game, and it has for a moment become your entire world, but then the game crashes, a wall glitches and disappears, or the monster that chases you gets stuck in a cigarette pack on the street – and you are immediately thrown out of the illusion – but you can suddenly see and appreciate the construction, despite its flaws, as in a Brechtian "alienation." You then also have a kind of contact with the creator of the work/game/painting. I constantly return to this relationship in my paintings – it can be motifs with people creating something, and what they "do" populate the scene with the same self-evidentness as the creator themselves.
You have also become known outside of the art circles, among other things, for creating digital copies of your work for the video game Minecraft. It is quite an exciting process to first build an image on your computer, transfer it to the canvas, and then digitize it and place it in a video game. Have you thought about what that journey does to the experience of the artwork, if the context changes the meaning? It was a similar event when your post on Reddit became viral, when a photo became a painting that became a digital photo, etc.
"Yes, especially the paintings I made for Minecraft got an extra turn in the carousel because many of the motifs were paintings that originally represented pixel graphics. I sometimes think about how context changes meaning, but I'm not sure I've come to anything sensible. I try different approaches and contexts and see what happens. The Reddit painting (Somebody's mom) was an example of this, where I tried to see if I could create a meme through painting. After it was picked up by, among others, the Washington Post and the BBC and spread around the world with millions of viewers as a result, I can safely say that it exceeded expectations. But things that spin around the internet are difficult to oversee, and even though it's interesting to do these experiments, they feel far from the central thing I'm doing. I would like to have control over the playing field where I can allow myself to not have control.
Freedom to improvise can only be had if you also have rules, and I enjoy having a painting with four corners."
Av Mathias Jansson
https://sverigeskonstforeningar.nu/virveln/2019/10/08/den-digitala-duken-intervju-med-kristoffer-zetterstrand/
Den digitala duken: Intervju med Kristoffer Zetterstrand
I den andra delen av intervjuserien "Den digitala duken" träffar vi konstnären Kristoffer Zetterstrand som berättar om hur han använder ett 3D-program för att skissa fram sina motiv. Han kan skapa hundratal olika skisser i datorn där han prova sig fram med olika ljussättningar, vinklar och kompositioner, men i slutändan är det ända penseln och duken han väljer för att förverkliga sin idé.
När du kring 2002 spelade dataspelet Counterstrike så upptäckte du en ny motivkrets i den digitala världen. Men varför blev de oljemålningar av motiven och inte digitala verk? Händer det något speciellt när man överför en digital bild till en duk?
För mig är det fysiska materialet i måleriet centralt för det jag håller på med. En digital skärm eller print kan visa en intressant bild, men när jag själv arbetar så är själva måleridelen av processen det absolut viktigaste. Jag tänker på det som att jag översätter en bild till måleri. Måleri är något unikt, annorlunda än allt annat i världen.
Kan du berätta lite om din arbetsprocess? Du bygger upp dina tavlor i 3D i datorn innan du överför dem till en duk. Hur komponerar du ihop bilden och hur väljer du sedan ut vilket motiv du ska måla?
När jag ska börja en ny skiss till en målning så brukar jag starta med en tom rymd i mitt 3D-program, som jag sedan börjar bygga en scen i. Ibland återskapar jag ett scenrum från äldre måleri för att ha något att utgå ifrån. Just nu t.ex. bygger jag upp landskapet och grottan från Bellinis "S:t Franciskus i öknen". Dessa scener kan jag sedan vända och vrida på och skissarbetet består bl.a. av att placera figurer som skådespelare i scenerna, experimentera med ljussättningen och prova olika kompositioner. Jag bygger upp arkitekturen, skulpterar landskap i bakgrunden, ställer in och testar parametrar för molndensitet, solstyrka o.s.v. Hela tiden under processen renderar jag testbilder, ändrar, och improviserar på så vis fram ett motiv.  Ofta har jag gjort hundratals motiv innan jag hittar ett som jag vill översätta till måleri.
Eftersom dina målningar i grunden är 3D-modeller har du aldrig funderat att göra virtuella 3D-målningar av dem?
Det känns lite som om mina skisser redan är virtuella 3D-målningar, och i så fall har jag ju gjort massvis – men jag har sällan visat dem. Jag tänker mer på dom som platser där jag hämtat mitt motiv – vilket gör att det skulle kännas märkligt att presentera dem. Lite som att visa ett stilleben på en utställning istället för målningen av stillebenet.
Men ibland öppnar jag en gammal fil för att ta mig en promenad i ett landskap jag inte varit i på länge. Det är möjligt att jag visar mina virtuella scener på något sätt i framtiden. Kanske i VR?
Vad är det som du vill utforska i din målningar? Du återanvänder dels konsthistorien, men arbetar också på ett meta-plan och avbildar människor som bygger modeller eller belyser övergången mellan det digitala och det målade, som påminner mycket om din egen arbetsprocess?
Jag har sällan en helt klar bild av hur motivet kommer att se ut när jag börjar skissa – men under processen så utkristalliseras till slut någonting som jag känner starkt för. När jag tittar tillbaka på en svit målningar i efterhand kan jag ju se att jag under den perioden hade någon typ av sammanhängande idé eller motivintresse, och en del teman har varit återkommande under många år, bland annat de du nämner.
Ofta försöker jag hitta ett spänningsläge i bilderna där något väldigt fundamentalt mänskligt iscensätts. Skapande, byggande, betraktande, presenterande, hävdande o.s.v. – olika viljor och handlingar som är grundläggande men som lätt blir problematiska. Ett återkommande inslag i detta är misslyckandet, buggen, tillkortakommandet och den stämning som uppstår när en fasad rämnar och en bakomliggande konstruktion visar sig, antingen fysiskt eller psykiskt. I ett dataspel t.ex. så kan man vara fullkomligt "inne" i spelet och det har för en stund blivit hela ens värld, men så buggar spelet ur, en vägg glitchar och försvinner, eller monstret som jagar dig fastnar i ett cigarettpaket på gatan – och du kastas ur illusionen omedelbart – men du kan plötsligt se och uppskatta konstruktionen, trots dess brister, som i en Brechtiansk "främmandegöring". Du får då också en slags kontakt med skaparen av verket / spelet / målningen. Det förhållandet återkommer jag ständigt till i mina målningar – det kan vara motiv med människor som skapar något, och det dom "gör" befolkar scenrummet med samma självklarhet som skaparen själv.
Du har också blivit känd utanför konstkretsar, bland annat för att du skapade digitala kopior av dina verk till dataspelet Minecraft. Det är ju en ganska spännande process att först bygga upp en bild i sin dator, överföra den till målarduken och sedan digitalisera den och placera den i ett dataspel. Har du funderat på vad den resan gör för upplevelsen av konstverket, om kontexten förändrar innebörden? Det blev ju en liknande händelse när ditt inlägg på Reddit blev viralt, då ett foto, blev en tavla som blev ett digitalt foto osv…
Ja, speciellt målningarna jag gjorde till Minecraft fick ju ett extra varv i karusellen eftersom många av dom motiven var målningar som föreställde pixelgrafik från början. Jag funderar ibland på hur kontexten förändrar innebörden, men jag är inte säker på att jag kommit fram till någonting vettigt. Jag testar olika tillvägagångssätt och sammanhang och ser vad som händer. Reddit-målningen (Somebody's mom) var ett sådant exempel, där jag prövade om jag kunde skapa ett meme genom måleri. Efter att det snappades upp av bl.a. Washington Post och BBC och spreds över världen med miljontals tittare som följd så kan jag lugnt säga att det gick över förväntan. Men saker som snurrar runt på internet är svåra att överblicka, och även om det är intressant med sådana experiment känns de långt ifrån det som är det centrala i det jag sysslar med. Jag vill gärna ha kontroll över den  spelplan i vilken jag kan tillåta mig att inte ha kontroll.
Frihet att improvisera kan man ju bara ha om man också har regler och jag trivs bra med att en målning har fyra hörn.
Kort om Kristoffer Zetterstrand:
Kristoffer Zetterstrand (f. 1973) bor och är verksam i Stockholm.
MFA (Master of Fine Arts) vid Kungl. Konsthögskolan 1996.
Har bland annat ställt ut på Stene Projects i  Stockholm och gjort offentliga utsmyckningar vid Nya Karolinska sjukhuset, Stockholm.
Hemsida: https://zetterstrand.com/